Collaboration with Evergreen State College
July 19, 2018
Community Welcome Dinner
6:00 pm – 8:30 pm
Patricia Wade Temple Conference Room
July 20, 2018
Native Case Studies Institute/Workshop
8:00 am – 5:00 pm
Patricia Wade Temple Conference Room
Registration Cost:
Registration fee at $15 per person for the one day Summer Institute/ Workshop and Dinner. Fee also covers materials, breakfast & lunch.
Conference Registration Deadline: July 10, 2018.
---
Problem-based learning, place-based learning and collaborative learning are the cornerstones of our approach. Cases promote student engagement and critical thinking in the context of complex and pressing real world issues relevant to ALL disciplines. 
Barbara Smith and Linda Stumpff, Facilitators
---
The Summer Institute of the Enduring Legacies Native Cases Initiative will build on more than twelve years of work developing teaching interdisciplinary case studies on significant issues in Indian Country, offering workshops for educators to network and learn how to use the cases in their classes. Our interdisciplinary collection of cases covers a wide range of topics applicable to all academic fields. They are a terrific way of promoting diversity. At this institute, we will practice working through cases collaboratively to learn how to facilitate case analysis and discussion (Smith, B.L, 2018).
The Community Welcome Dinner gathering will function as a "kick-start" to our one day case studies workshop. Ed Rousculp, Heritage University Chair of Psychology and Co-Director of the Center for Intercultural Learning and Teaching will be our Keynote Speaker for the Dinner. Join us in celebrating culture through diverse local performances. Everyone is welcome to enjoy the Salmon Dinner and the various activities, including an "Open Mic" at the close.
---
Art Professor, Gloria Garcia, will be gathering the young people for an art project which we will showcase at the close of the dinner. As usual, we are excited about the inter-generational focus of our "Welcome Dinner" tradition. From infants to great-grandparents, we look forward to honoring those who are with us, those whose legacies precede us, and those who are yet unborn.
Winona Wynn, Convener
---
Native Cases Summer Workshop: The summer institute will run from 8:00 a.m. to 5:00 p.m. on Friday, July 20th. Breakfast is at 8 a. m. with the program starting at 9 a.m. Pre-reading and homework is required prior to the workshop. Campuses and organizations are invited to bring teams or attend the institute as individuals. Space is limited and registration is first come, first served. The registration fee for the one-day institute is $15.00 per person which includes breakfast and lunch, as well as the optional "Welcome Dinner."
---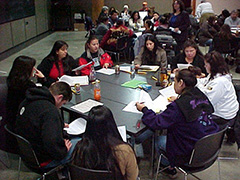 This conference is generously supported by the Mellon Mays Undergraduate Fellowship at HU
Conference contact  Winona Wynn or Barbara Smith
Wynn_w@heritage.edu or smithb@evergreen.edu
More information about Native Cases Project:  http://nativecases.evergreen.edu/