Welcome Parents!
Welcome to YOUR center! We are happy that you have chosen to be a part of our exciting early education program here at Heritage University Early Learning Center (HUELC).
The College of Education and the staff here at HUELC is committed to providing an atmosphere in which your child will feel loved, accepted and capable. We extend those same goals to those who care for the children outside the center.
Our goal is to support and empower families while preparing your child for kindergarten and beyond. We have an "open door" policy and want the families to feel at home when they enter the center. Family members are invited to participate in various activities or to even share skills or hobbies with the children. On the days you're unable to visit, please feel free to call us to share ideas, concerns or to check on your child. As a parent, you are your child's first teacher and we want to support you in that process while working with your family.
Our child care programs are designed to offer experiences that enhance and enrich each child's cognitive, language, social, emotional, physical and creative development. The HUELC believes that good child care is good family care. However, our basic philosophy is one of freedom to learn, grow and make choices. We believe that children learn through play, and we have structured the environment to reflect that belief.
---
Our Mission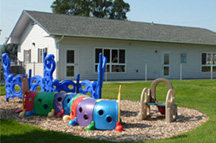 Heritage University Early Learning Center strongly believes in providing a healthy, safe and developmentally appropriate learning environment for all children and peace of mind for parents. It is our mission to teach the children values of compassion, honesty and responsibility.
We Believe
In accepting the diversity of cultures and beliefs of the families and community that we serve.
In providing quality services to each person.
In the value of family, in whatever form that takes.
In the professional development of our staff and supporting their increasing development of best practices.
---
Parent Involvement
Our center has an open door policy. We encourage parents to come in anytime to join us in activities, share a hobby/skill or help out on field trips. Parents are key players in their child's education and their interest in what their child is learning sends a message of love and caring to that child. A message that "I'm important, and my school is important and learning is important." What a great message to send your child!
Parents are invited to learn more about their child's day and how school and home can support each other. Monthly newsletters, classroom notes and lesson plans are available to the families so they can feel well informed on their child's day. We encourage parents to call when they have a question or concern or to just hear how their child's day is going. We believe part of our role is to support the parent in theirs. Working together as a team to provide the best possible learning experience away from home with the feeling of home.
---
Early Childhood Education Assistance Program
The Early Childhood Education Assistance Program (ECEAP) is Washington state's version of Head Start. This program is offered at no charge to families facing financial struggles but still want to make available to their child a high-quality learning experience.
Our ECEAP program runs Tuesdays through Thursdays from 8:30 a.m. to 12 p.m. Families who are in need of child care extending past those hours are welcome to register their child for continued care. Talk to the director or the ECEAP Family Support Specialist for assistance with this process.
Contact Us
Toddlers – Chickadees 
(509) 865-8500 – ext. 5602
Preschool Room – Wolves
(509) 865-8500 – ext. 5501
Pre-kinder Room – Cubs
(509) 865-8500 – ext. 5502
Mondays – Fridays
7:15 a.m. – 6:30 p.m.
Get Started
---
Contact Us
Toddlers – Chickadees 
(509) 865-8500 – ext. 5602
Preschool Room – Wolves

(509) 865-8500 – ext. 5501
Pre-kinder Room – Cubs
(509) 865-8500 – ext. 5502
Mondays – Fridays
7:15 a.m. – 6:30 p.m.